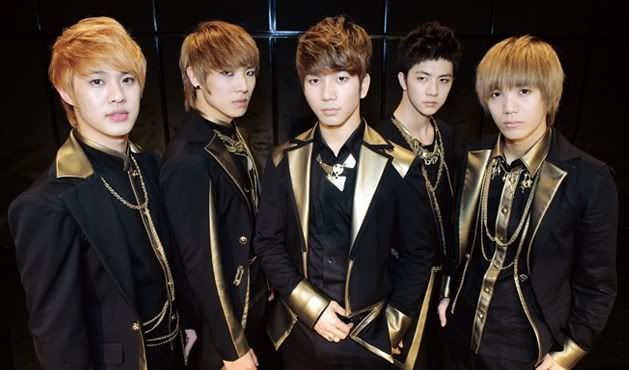 This question we'll ask the leader Seungho. From when did you start preparations for your debut in Japan? Also, this time there are Japanese lyrics, if there was a troubling point please tell us.
Seungho: We started preparing about one year ago but because of various things on our schedule, it took time. Japanese pronounciation is hard. Like 'za' and 'tsu'...
This question we'll ask the main vocal G.O. The MBLAQ-like image had make-up that felt like a vampire, but this time the cover photo make-up had a moderate feeling. Please tell us the Japanese debut image concept.
G.O: For a different image of the vampire concept in Korea and in Japan, we thought of a calm and cool image.
Please tell us about your hobbies. We have a question about Seungho's specialty, piano. If you were to perform on the piano for a lovely girl as a gift, what song would you play for her?
Seungho: Yuki Kuramoto - 'Paris in Winter'. So far, Joon has acted in movies and dramas, from now on, as an actor, does he have any plans?
Joon has acted in movies and dramas, from now on, as an actor, do you have any plans?
Joon: There hasn't been anything settled yet, but if there is a chance, then I definitely want to challenge it.
G.O's specialty is cooking, please tell us a specialty dish.
G.O: I make the easy and tasty chahan a lot.
We have a question for Chundung who can speak 3 languages (Korean, English, Filipino). From when did you start studying?
Chundung: I lived in the Philippines from a young age, so more than doing special studying, being able to speak it came naturally.
By the way, which member is the best at Japanese?
Everyone: Seungho!
It seems that Mir practices imitations and gags. Whose imitations do you do well?
Mir: Ones I practice... I think I can see a style of bright characters. More than special imitations, there are lot that have that kind of atmosphere.
You held a "Super" Limited LIVE for the first people to buy the debut CD in Osaka. Please tell us your impression on Japanese fans and your image of Japan.
Seungho: Everyone was really kind and their manners were really good. For receiving us warmly, thank you so much. Because we hadn't yet reciprocated, with this debut as a start, to really convey these thankful feelings, we will do our best. Thank you.
Lastly, about activities in Japan after this, please say a word about your enthusiasm.
Seungho: (In Japanese) We won't forget our original intentions, we'll do our best. Please treat us well.
From Japan, thank you. We are anticipating more activities from you in Japan.
c:absolutemblaq